The way to achieve Enterprise Agility
How many times we have heard about agile, Jira, Kanban, etc., and everything related to agile philosophy? Today we can find a lot of software tools to manage projects or processes using agile methods. However, can enterprises implement agile through implementing a software tool?
What is Agile?
Agile is a philosophy, a way to act, to collaborate in an organization to achieve a goal, to complete activities and tasks, in a process to ensure and encourage participation, leadership, and collaboration among every team.
Enterprise Agile Transformation
Business Agility is an ability for enterprises to react to changes using an evolved system in the way they work. From this system, we can extract its essence and adapt it to any professional field.
The Process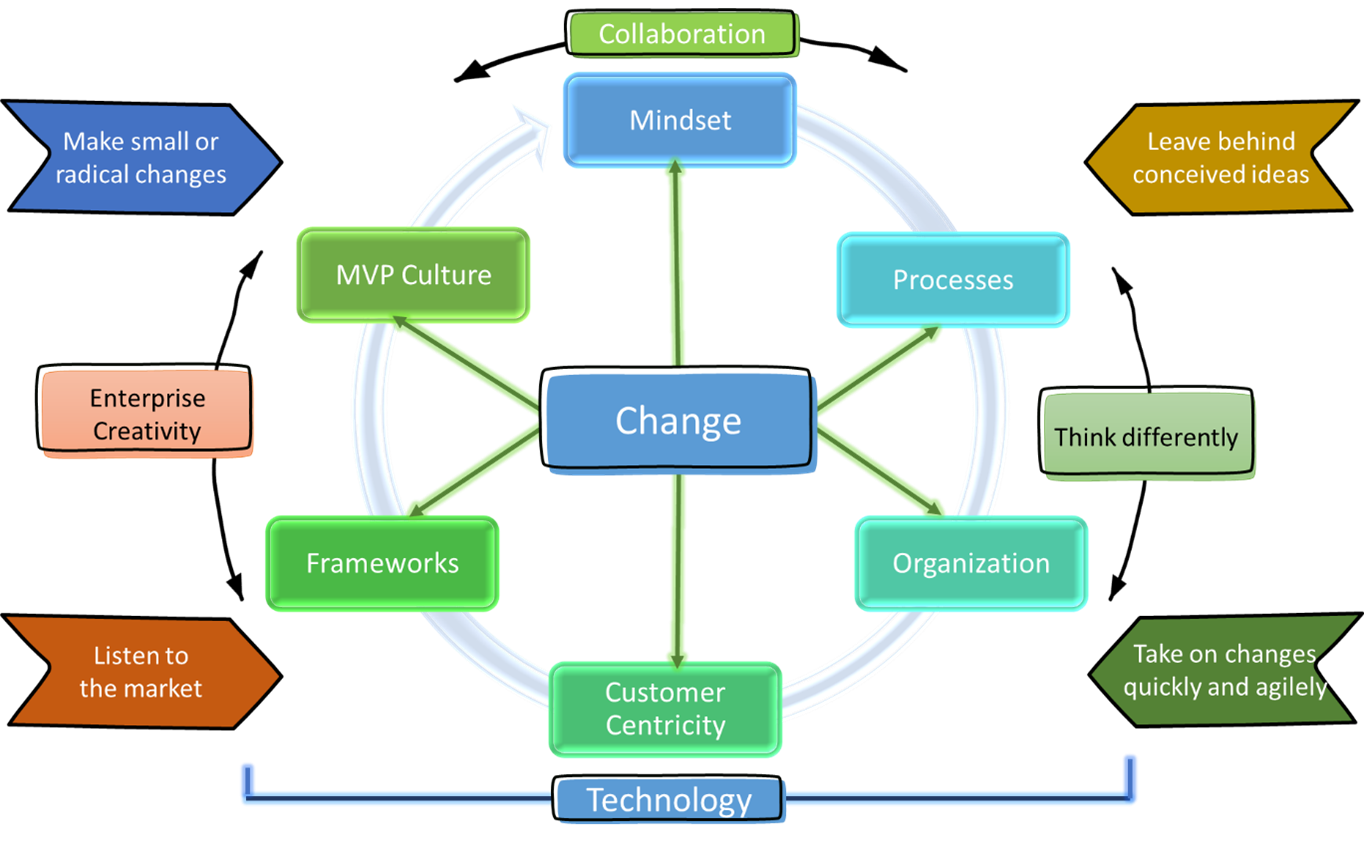 Before implementing software to manage agile projects or processes, we need to make a change in our processes, our organizational and leadership and people mindset, and our belief, to create an agile environment in processes and people. We must begin to change our minds and our organization. This is the way to implement agile in any organization. How?
Change the mindset. Today, project team members, and employees, are one of the main parts of the business. Without them, an enterprise can't work and achieve strategic goals. As leaders, we should recognize their value and encourage their collaboration and participation in every process. In this context, leaders, from executives to supervision levels, should impulse a leadership model based on:

Motivation
Empowerment
Share responsibilities with the team
Advertisement

Focus attention on the main wealth generators of your organization.  It is important to transform their mindset and their way of facing changes with agility. If moving the boat (an entire company) is complex, then in parallel a BOAT is built that moves faster.  A flexible and small structure. A self-sufficient team, empowered and specialized in facing market changes.
Change your processes. It is important to review your processes to create lean ones that include support to manage changes. Reduce bureaucracy through employee empowerment, giving them enough authority to make decisions and eliminating unnecessary steps.
Change your organization. We must break with the idea of working by departments – by silos. Unite the diversity of professionals in an area, a flatter structure, or a HUB. Common mental, digital, and physical spaces favor agility.
Customer Centric and focused on clients' needs. Nowadays, clients change their needs and preferences. It is imperative to know their expectations, and how you can address those to manage their preferences and make changes. Listen to customer needs. Orient the attention of your entire crew towards a customer-centric objective. The goal of agile teams is to meet customer demands. And to hear it, it is important to focus attention on a 360º view: sales data, navigation data, and direct customer data.
Frameworks. To face changing environments, it is important to organize teams with new ways of working. For this, Agile business methodologies such as Scrum, Kanban, Lean, Design Thinking, OKRs, and Management 3.0 can be implemented. For example, you can work with SCRUM frameworks used within teams that handle high-uncertainty and complex projects. This will allow you to set new work rules, such as working in short periods called sprints, carrying out daily follow-up or daily meetings, working with the initial features that offer value to customers and the organization such as MPVs; and organizing teams in another way:  product owner, scrum master and development teams.
MVP Culture. The minimum viable product must be above complete products. An MVP culture should be established to deliver constant value to the customer. Instead of developing an entire product for years and waiting until it is complete, the MVP allows us to launch the minimum value of this product to the market, check how it is received by the customer, and continue to evolve with new developments in the right direction.
Software tools
After you have begun changes in your mindset leadership and employees, your organization, and your processes, you can implement software tools that can help you to measure and improve your processes, fix issues, and achieve Enterprise Agility. By means of software tools, your enterprise can start a transformational agile way, face changes, adapt processes through automation, and respond fast and efficiently to customer changes by analyzing their behavior.
Enterprise Agile Transformation Benefits
Focus on people. Collaborative and multidisciplinary work makes talent prevail over processes and organizational charts.
Empowerment and motivation. Collaborative work, fluid communication, and the equal participation of all team members generate autonomy, transparency, and accountability in all its members, which empowers and motivates employees
Risk Minimization. The continuous review model allows adaptation to change in a faster and more efficient way, finding solutions during the process that minimize the risks of failure
Response Speed. Agile transformation provides a flexible structure that allows the delivery of projects/services versions within short deadlines.
Improved results. The closeness with the client allows having a more excellent knowledge of it providing a differential added value and generating savings in costs.